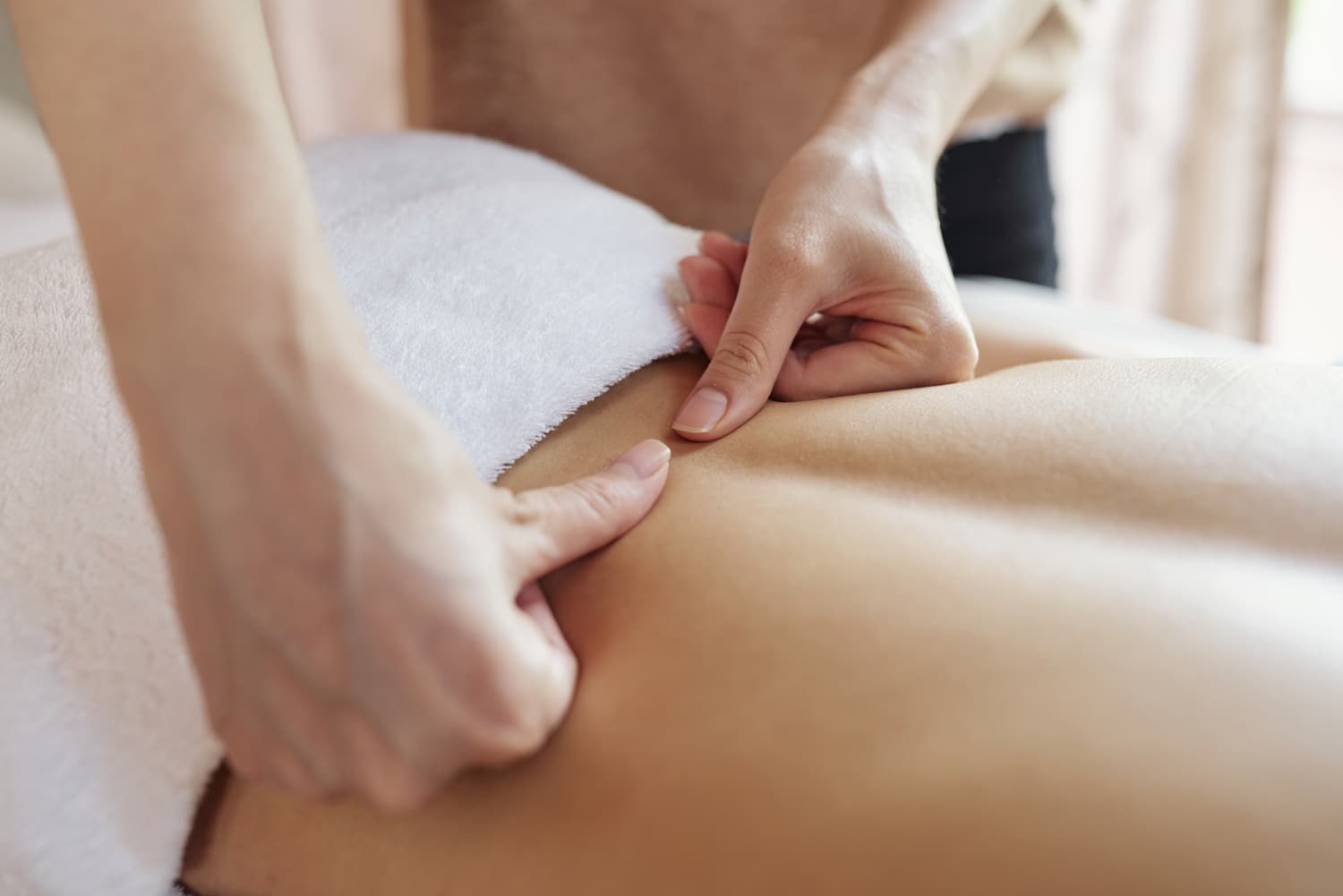 How myofascial tissues work?
Myofascial tissues are spread throughout your body and connect your muscles, joints and bones, providing support and keeping them in place. The structure consists of layers of fascial tissue with a liquid called hyaluronan that lubricates the tissue and ensures it can stretch as required. When this liquid dries up or changes, it can affect the tissues and lead to problems with the muscles and joints. This can occur due to inflammation caused by overuse or injury.
Myofascial pain only occurs where muscles and joints connect such as the lower back, neck, shoulders and jaw and this is why this type of pain can restrict movement more than muscle aches in other parts of the body. However, the restriction often leads to a compensatory effect on surrounding muscles resulting in more general discomfort and widespread body pain.
How does myofascial release therapy help?
Your therapist understands where in your body the myofascial tissues are and can use their experience to identify areas where there is less stretch and movement than there should be. These areas are often known as trigger points can cause ongoing intermittent problems often with no obvious cause. It is possible for the therapist to identify these trigger points even if the patient isn't sure where the pain is coming from.
What can you expect from your myofascial treatment?
Myofascial release is known as scar tissue release because it pinpoints the areas where tissue has been damaged and works deeply into the area to release the tissue from the surrounding structures – similar to how scar tissue can connect to healthy skin, reducing movement and restricting healing.
Your therapist will first identify the exact areas where there is tightness and restriction and will work on each area intensely, often with their hands or sometimes with a roller or ball, to release the tissues. This can be an intense experience and can be painful (however your therapist will be careful to work to your threshold and not beyond).  The intention is to improve the movement of the structure and the therapist will immediately be able to feel the loosening of the tissue as they work on the area.
What are the benefits of myofascial release?
Patients often report some immediate relief from just one session of myofascial release therapy, however the best results come from a longer-term course of treatment. You can expect:
A reduction in pain in the area and in the surrounding compensatory muscles
Improved circulation and heat to the area
Reduced inflammation
Improve range of motion in the joint
If you would like to discuss your joint or muscle pain and to find out if myofascial release therapy might help you, just give us a call.
Ant was welcoming, took my pain history and talked me through what he was manipulating. Been having a lot of trouble with my left hip, went for a walk today and no hint of old pain. He sent me exercises to do after my appointment to continue to strengthen my problem areas. Will be booking again soon.
Jennifer
Ant is brilliant – he really knows anatomy and massage, and will not only fix you with his hands, but also send you exercises to help prevent issues reoccurring. In addition, you'll have a good chat, get film recommendations, and all with alt rock background music – far better than the usual ambient pan pipe nonsense. Highly recommended!
Carrie
Ant is brilliant ! He has the knowledge of a great physio combined with strong and targeted massage technique that just works and gets me moving again ! Turned up with a sore kneee that wouldnt bend left completely fine and fixed plus a clear understanding of what had caused the problem. He even emailed me exercises later that day to help avoid future problems. Cannot recommend enough !! Thanks Ant !
Paul
Really good massage. I've been used to massage therapists just going in with their hands and not asking questions, but Jessika talked to me about my motivations for booking and then worked on the specific areas that needed it. I came out feeling like I had clouds for muscles, and my posture is already better. Amazing!
Leanne
I've had chronic issues with my neck and back and I always leave Circle 8 feeling miles better. Ant is very knowledgeable and always makes sure to explain what may be causing the pain and discomfort. He is brilliant at what he does and is also really friendly. Definitely would recommend!
Meenakashi
Circle8 is top notch for any niggles you might have, however big or small. Ant and the team are mega knowledgeable, they can feel exactly where you pain might be coming from, release your tension professionally, and even offer follow up exercises and mobility work to treat and prevent further issues. I'd highly recommend them to anyone looking for sports massage in Leeds city centre.
Sarah Cotterill
Best massage ive ever had. Ant is really friendly, great to chat to on the more painful areas of the massage and excellent aftercare advice. Wish I'd have found this place sooner! Cannot recommend enough, will definitely be back!
Ash
Do You Have Health Insurance?
Claim back the full cost of your massage in Leeds, as the Circle8 team are fully accredited with the federation of holistic therapists, which is supported by all major health insurance providers. Check your Insurance policy for more information to see which treatments you can claim for.
Get started
When you come for a massage at Circle8 we don't just treat your issue and send you away, we find out exactly which movements and muscles are causing it, explain to you what's actually happening, give you exercises in the gym and at home that you can do to help alleviate and eventually get rid of your issue. 
3 Lower Briggate, 2nd Floor, Leeds, LS1 4AE